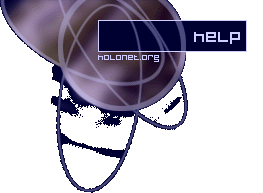 IRC can be confusing for people new to it. This area is here to try and help you get on your feet and ready to chat. Most of this should help you with IRC in general, but some of it will also be specific to the Holonet.
The most Frequently Asked Questions about the Holonet, generated from email and questions asked on #Help.


A short list of behavior and activities that we deem inappropriate to the nature of the society on the Holonet. Good to read before complaining about having been "wrongfully" removed from the Holonet.


The channels section for some useful and some of the most popular Holonet channels.


We provide IRC services to allow users to register their nicknames, channels or to send memos to one another. This section has help on using these three services.